Course details
【A】 PIZZA All you can drink and 5 kinds of cocot dessert All you can eat 1200 yen (tax excluded)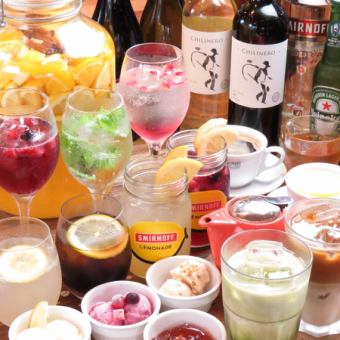 By using a coupon1200 yen
One person / tax excluded
All-you-can-drink available

Last order 90 minutes 【Fri, Sat, Pre-Holiday, December except free for 30 minutes Extension 90 minutes → 120 minutes】 ※ 90 minutes when crowded Last Customers Drink All-you-can-eat Alcohol & Soft Drinks + Gelato as well !!
Available days for reservation

Monday - Sunday - Public holidays - Holidays
Popular all-you-can-eat set ♪ Only ♪ with a variety of drink menu and popular à la carte menu ♪
Course menu
* You will order two menus separately for 350 yen or more per person.
◆ More than 50 kinds of alcohol & soft drinks, almost same as the grand menu can be enjoyed with all you can drink.
◆ 4 kinds of gelato, 2 kinds of ice cream you can eat as well.
* Beer does not attach.Beer is available for + 300 yen.
All-you-can-drink menu
· ■ 24 alcohol drinks ■ (+ beer type 3 types)
· Heartland / Shandigafu / Kirin Free ※ + 300 yen
· White Wine / Red Wine <Italy, Chile, France> * Can be Carafe
· High Ball / High Ball Apple Shrub / Ginger High Ball / Cork High Ball / High Ball Orange Vinegar (Homemade Vinegar) / High Ball Lemon Vinegar (Homemade Vinegar) / Whiskey Black Nikka (Straight / Rock / Water Split / Soda)
· Smirnoff Ginger Lemonade / Smirnoff Mix Berry Lemonade / Smirnoff Orange Vinegar / Sminof Lemon Vinegar
· Wine Splitzer Fresh Mint / Wine Splitzer Mix Berry / Homemade Sangria Splitzer (White · Red · Rosé) / Homemade Sangria (White · Red · Rosé) / Carimocho / Operator
· ■ 31 soft drinks ■
· Homemade Ginger Ale / Homemade Hot Ginger / Squeeze from Florida 100% Orange Juice / Florida Squeeze 100% Grapefruit Juice / Blood Orange Juice / 100% Apple Juice
· Half & half of soy milk and iced coffee / Half & half of soy milk and ice matcha / Rose & rose pips soda / Italian produced Blood Orange raw soda / Virgin mojito
· <Natural drink BAR 17 species> ~ Fun! 10 kinds of tea & herb tea ~
· Rose hip peach / lemon mint / orchard fruit / jasmine tea / citrus rooibos tea / roses and litchi and raspberry tea / apple tea / Early gray special / Ceylon Dimbra / Shizuoka Sencha
· ~ 4 kinds of handmade cold drink ~
· Homemade Orange Vinegar Drink / Homemade Lemon Vinegar Drink / Ice Jasmine Tea / Ice Oolong Tea
· ~ Fresh ground fresh coffee ~
· Hot coffee / Ice coffee / Espresso coffee
· Dessert ■ ~ 4 kinds of gelato · Jelly of the day ~
· Vanilla ice (with chocolate & maple sauce) / Mixed berry gelato / Salted butter salt caramel gelato / Pear gelato / Today's homemade jelly
Coupons that can be used with this course
2018/12/13 update