Course details
【Special Offers for Daytime Banquet ☆】 More than 26 kinds of pizza & 5 types of cocot dessert All you can eat ★ 2500 yen → 1500 yen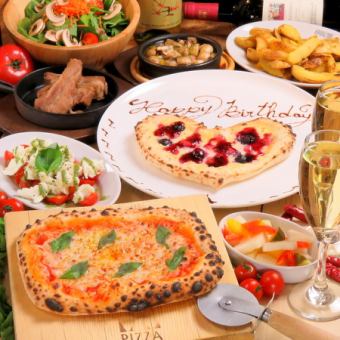 By using a coupon1,500 yen
Thank you for ordering one person / tax one drink order one.
Available days for reservation

Monday - Sunday - Public holidays - Holidays
Aim for PIZZA All types of conquest ♪ ※ Please order an order of drinks.Depending on the congestion situation, we may refuse.Please note.Regardless of the start of the party time, we will make it the last order of 17: 30.A party of up to three and a half hours is also possible!
Course menu
Contents
* Pizza Over 26 kinds of all you can eat (All dishes are offered baked pizza differently)
* All-you-can-eat cocot dessert of 5 kinds
*French fries
* Origin direct delivery salad
-----------------------------------------------------------
【Private place · Party · Banquet】
Based on the above course, we will create an original plan.
This is a party and banquet plan from 14: 00 ~ 18: 00.Regardless of the start time ※ We will make it the last order at 17:30.
A party for up to 3 and half hours is also possible!
Please feel free to contact us.
【Various surprises are accepted】
· Place heart-shaped pizza on platter and decoration service 1,000 yen (tax excluded)
· We will make fireworks, BD songs, mood with lighting according to your request.
· Bringing cake 300 yen per person (excluding tax)
· 1 bottle of wine 3,000 yen (tax included)
2018/12/13 update